Between 1861 and 1865, one in five white Alabama males of military age lost their lives to disease or combat. East Alabama Male College shut its doors. First Baptist Church, which met only once a month, became a Confederate military hospital. Whether one believes in miracles, lots of Confederate soldiers wounded in the defense of Atlanta and evacuated by train to Auburn believed in them. Laid on bedding between pews in our church, their lives were sparred in 1864 when a tornado collapsed the roof of the church onto the heavy church pews just above the recovering soldiers.
Neither human or natural chaos was a new experience for AFBC. Throughout the century, worshipers met there only once a month. The "call" to pastors was renewed annually. Please the congregation or hit the road! Beyond occasional worship, no church structure existed. Methodists had dominated the religious life of the village (and, indeed, the state) until the great revivals in Confederate armies, and would continue to hold the upper hand in Auburn. During the last three years of the war, the church listed no pastor at all. A pastor served the church for only 25 of the first 30 years, and their average term was slightly less than 4 years.
But from the end of Reconstruction in Alabama (1875) until the beginning of a new century, tremendously important patterns emerged. Deleting the 10 year term of M.W.E. Lloyd from 1868-1878 (he served as pastor three times between 1868 and 1890, a total of 17 years), the average ministerial term actually dropped to barely 3 years. Their short tenures hardly mattered because lay-led structures such as Sunday School, Young Peoples Society, Woman's Missionary Society, and the church committee system took charge. Strong lay leadership gave the church steady, firm direction during the final quarter of the tumultuous 19th Century.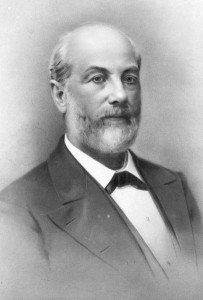 Chief among these lay leaders was Isaac Taylor Tichenor, whom church historian John Jeffers called the "giant of the giants." Actually, Tichenor is too complex a man to simply call a "layman", though that was chiefly the role he played in the church. He of the Biblical first name and unusual family name, unites early and late century eras in the church and denomination. He represents what was most provincial and what was most expansive, what was sectional and what was universal.
Born in Nelson County, Kentucky, in 1825, he was such a precocious child that he began school at age 4. At 16 as he prepared to enter college with a strong background in classics (mathematics, Latin, rhetoric, and logic), a devastating case of measles and a resultant throat infection left him with lifelong vocal cord damage and deflected his life away from college into teaching and preaching. Although a lifelong reader and student of many subjects and in time a university president, he never finished college.
His ministerial career carried him to Montgomery, where he pastored perhaps the state's largest and most prestigious First Baptist Church. With governors, legislators, and Confederate officials in his congregation during 1860-61, it is no surprise that patriotic sermons preached to them began to weigh on him as well.
He resigned to become chaplain of a Montgomery area regiment. On Sunday morning, April 6, 1862 at the Battle of Shiloh, Tennessee, Tichenor earned the nickname, "The Fighting Chaplain." When many Confederate officers were killed or wounded, he assumed command (though chaplains held no rank or even military commission). When a Union sharpshooter targeted him, he retrieved a Colt repeating rifle from the battlefield and killed the enemy soldier, the first of several victims of his marksmanship that day. When a bullet struck his leather belt, it deflected the ball sufficiently that, though bruised badly and knocked down, he escaped serious injury. When the Seventeenth Alabama Regiment faltered under heavy fire, he literally preached them a sermon, reminding them over the roar of battle that it was Sunday morning and back in Alabama their families were at church praying for them. The battle left no mark on his conscience, but it did cement his sectional identity as a fierce foe of all things northern. He returned to his Montgomery church a hero and a critic of the excesses and abuses of the slavery system that had brought the war, though not an opponent of slavery itself.
When the war ended, he sought to defend the South through economics, education, and religion. Convinced that the South had lost the war because of its weak industrial base, he became a self-taught metallurgical engineer who developed the Cahaba Coal field. In 1872, he was chosen as first president of the new Alabama Agricultural and Mechanical Land Grant College. When the state refused to supplement Federal funds appropriated under the Morrill Act, he chastised legislators and attacked the University of Alabama for its elitism and opposition to state funding for his school. Determined both to maintain the classical and religious legacy of East Alabama Male College and merge it with applied education in agriculture and engineering, he imprinted the university in ways that were unique among Land Grant universities.
While president of the college, he played a key role as lay leader at AFBC. As Alabama's representative on the Foreign Mission Board, he championed missions. As a southern sectionalist, he opposed the dominance of Northern Baptist literature in southern churches. As a foe of northern Baptist missionaries to the South, he demanded that each region have its own autonomous realm. After serving as interim pastor of the church in 1878 and bringing his son-in-law as pastor the next year, Tichenor resigned as college president in 1882 to become the first leader of the newly restructured Southern Baptist Home Mission Board, relocated to Atlanta, queen city of the New South which he helped build. Just as Tichenor had pioneered industrial and educational institutions which mimicked northern trends without conforming to northern ideology, he turned his new agency into the principal Southern Baptist institution resisting religious reunion of Baptists in America. His literature publishing house, mission efforts among southern blacks, immigrants, and Native Americans essentially blunted northern Baptist efforts to evangelize the South and ensured a regional religious sectionalism throughout the 19th and 20th centuries. J. B. Lawrence, one of Tichenor's successors at the HMB, described his legacy in sectional terms:
"In no spirit of narrow sectionalism, but in absolute loyalty to what he regarded as the most evangelical type of America's denominationalism, he contended heroically, and successfully, for the integrity of our great representative body. With the diplomacy of a statesman, the eloquence of an orator, the courage of a hero, and the devotion of a confessor, he kept in the column of harmony all the original southern states. To Tichenor more than any other man perhaps is due the solidarity of the denomination in faith and practice from Maryland to Texas…, from Missouri to Florida."
To read more about Tichenor, see Michael Williams' (a former member of our church, while in graduate school) biography of him in the church library, Isaac Taylor Tichenor: The Creation of the Baptist New South.