If I. T. Tichenor was the flaming comet shooting across Auburn skies in the 1870s, leaving in its wake both solid ecclesiastical and educational institutions, Patrick Hues Mell, Jr., and C. E. Little were the smaller, more enduring, and perhaps in the long run more important meteors trailing behind.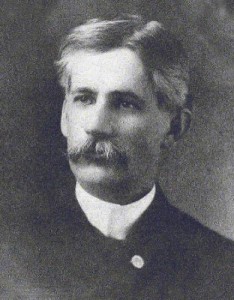 As impressive as Tichenor's denominational influence South wide was, and as influential as he was in the history of Auburn University, the Mell family matched him institution for institution. Patrick Mell grew up in a family whose Baptist credentials trumped even Tichenor's. His father was a Baptist preacher, denominational leader, educator, Confederate soldier, and author. He attended Amherst College in Massachusetts, became professor of ancient languages at Mercer University in his native Georgia, then moved on to join the faculty at the University of Georgia. There, he ascended the administrative ladder to become Chancellor in 1878. Like Tichenor, he became a denominational leader, serving 15 years as president of the Southern Baptist Convention, the longest tenure ever. He authored books on baptism, church discipline (a favorite topic), prayer, Calvinism, predestination, slavery, God's providence, and parliamentary procedure. He was married twice and fathered a total of 15 children. His namesake son attended the University of Georgia, graduating in 1871, but preferred science to theology. The A. and M. College of Alabama elected him chair of Natural History and Geology in 1878, beginning a 22-year career in Auburn, where he also served as Director of the Alabama Weather Service and Botanist of the Alabama State Experiment Station.
When Tichenor left shortly after Mell arrived, the younger man assumed his role of church leadership for two decades. In 1884 he was elected first president of the Mission Society. Four years later, he offered the motion to establish a Finance Committee to raise money for the church and was, in best Baptist tradition, promptly elected chairman. In 1889, he led the effort to build the church's first pastorium. In 1891 he proposed a way to improve worship services by providing hymn books to every member of the congregation (at a price of only 45 cents a book with verses only, and a bargain at 90 cents each with both words and notes). He regularly attended the Southern Baptist Convention, where his father presided brilliantly. And in 1889, Mell supported switching from northern Baptist Sunday School literature to the new literature of Tichenor's Baptist publishing house, leading some S. S. leaders to resign in protest.
Despite all these innovations and leadership roles, he was very much his father's son in his high regard for church discipline. Early in the history of AFBC, members had adopted "Rules of Decorum" which were common among mid-nineteenth century Baptist congregations. The rules described a moral and ethical consensus within the congregation about how members were expected to conduct themselves in private and in public. Some more "liberal" church members believed the rules went too far, were too censorious, and were unneeded since the Bible spelled out such conduct adequately. Others felt that to eliminate them was a compromise of principles for the sake of popularity. Nonetheless, on December 3, 1882, just before Tichenor departed for his new job in Atlanta, he led a successful move to drop rules of decorum.
This was about as far as the church or Patrick Mell were willing to compromise their principles. In the mid 1880s, a committee of deacons contacted members who failed to attend services and asked them to explain their absence. In 1887, the church discussed a common church tradition of dismissing a member if his/her conduct did not improve after a visit by pastor and deacons (which must have been a pleasant committee task!). The following year, motions came before the church to investigate rumors of unchristian conduct among some members, leading at least one straying member to confess the error of his ways, at which time he was continued in fellowship. In June, 1898, "Brother Mell" offered a motion to declare "modern dancing" (presumably not including Square Dancing) sinful. Some resistance from young people and more "liberal" members resulted in tabling the motion temporarily. However, when the motion was taken off the table a month later, AFBC went of record as opposing "round dancing" in public places (apparently dancing at home away from public scrutiny remained acceptable; sin on, but not in public?).
After two decades of lay leadership at AFBC, Mell departed in 1900 to become president of Clemson University, opening the way to a new generation of church leaders. A man of quieter temperament and less commanding opinions, C. E. Little was no less a passionate and loyal member of the church. Whereas hardly a church business meeting ended without the church clerk recording Mell's name as author of a comment or motion, Little's name seldom appears in church minutes. But in a more behind-the-scenes way, he may have made an even larger contribution. He and his family came from Ohio and joined AFBC in February, 1881, three years after Mell arrived. In following years, he became one of Auburn's most prosperous farmers and merchants.
The one place where church records do refer to Little dealt with finances. Little served for years as church treasurer. After he presented the treasurer's report at the August, 1894, business meeting, his friend, Patrick Mell, shocked the church by announcing that the church owed Little $415. Little routinely balanced church financial deficits by paying bills due out of his own pocket, never telling the congregation. Church discipline concerned Little as much as Mell, though he made less noise about it. Probably the trend to hold members accountable for their church pledges owed something to him. And in 1894, he reported that a member of the church had charged that the congregation's report to the Tuskegee Association (which claimed church harmony, well attended prayer meetings, doubling of mission gifts, and increases in the pastor's salary) was untrue. In fact, the disgruntled member said that the pastor had resigned because he was unhappy and the church was unhappy with him. This instigated a long church controversy, with charges leveled back and forth between the aggrieved member and the church represented by various committees.
Nonetheless, the church survived, thanks in no small part to Little's generosity and faithfulness. Rapid turn over in pastoral leadership, part time pastors who preached only once a month, the yearly necessity to stand for reelection as pastor, two major depressions in the 1870s and 1890s, and Methodist domination of town leadership, left the church barely stronger at turn of century than when it began. In 1890, total church membership numbered only 90; three years later it had grown to 113; but two years of nationwide economic calamity dropped that number to 110 in 1895. Although no one could imagine it, the next twenty years would not only see the rise of a new generation of leaders but one of the major explosions in church growth in the history of AFBC.