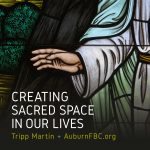 The Lord's Table spans the globe, connecting us to our Brothers and Sisters in Christ around the world. It reminds us that God's Circle is always wider than our circle.
On Wednesday, we gather for "Abiding Love: A Lenten Journey" — the fourth season in the devotional series Creating Sacred Space in Our Lives presented by Tripp Martin, pastor of Auburn First Baptist Church.
For more information, visit AuburnFBC.org.