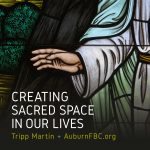 During Lent, we think about what we need to let go of, and what is most important that we need to hold on to. And during this Lenten journey, we are thinking about the word Abide.
On Wednesday, we gather for "Abiding Love: A Lenten Journey" — the fourth season in the devotional series Creating Sacred Space in Our Lives presented by Tripp Martin, pastor of Auburn First Baptist Church.
For more information, visit AuburnFBC.org.