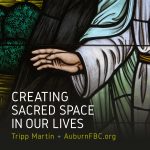 We find our strength at the broken places through the practice of empathy, where we can lean down to care for others — to see another's struggle, not as something that makes them different, but something that makes us the same — because we all need the Grace of God.
On Wednesday, we gather to reflect on "Creating Sacred Space in Our Lives" — a devotional series presented by Tripp Martin, pastor of Auburn First Baptist Church.
For more information, visit AuburnFBC.org.