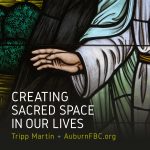 There is such a difference between saying the word "blessing" as a gift, and saying it as a reward. As a reward, it has a self-focus to it — it has a sense of self-serving victory. But, out of humility, it sounds very different.
On Wednesday, we gather for "Sacred Words: Reclaim, Redefine, and Rediscover" — the second season in the devotional series Creating Sacred Space in Our Lives presented by Tripp Martin, pastor of Auburn First Baptist Church.
For more information, visit AuburnFBC.org.