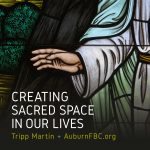 On the journey, there can be too many hills. There can be not enough help. We can begin to doubt where we are going. And, when it becomes hard, and we cannot see the way forward, we can first look back to remember the days of old.
On Wednesday, we gather for "Bread for the Traveler: Wisdom from the Psalms" — the third season in the devotional series Creating Sacred Space in Our Lives presented by Tripp Martin, pastor of Auburn First Baptist Church.
For more information, visit AuburnFBC.org.