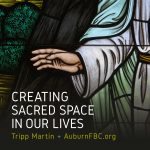 Throughout the Book of Psalms, we find every experience and every emotion that we might have. And, it gives us direction and provides wisdom for the journey along the way.
On Wednesday, we gather for "Bread for the Traveler: Wisdom from the Psalms" — the third season in the devotional series Creating Sacred Space in Our Lives presented by Tripp Martin, pastor of Auburn First Baptist Church.
For more information, visit AuburnFBC.org.