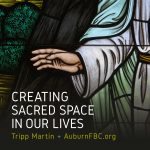 How are we going to get through this? How am I going to have enough strength to face this? Am I alone? Is there guidance that yields a way forward?
On Wednesday, we gather for "Bread for the Traveler: Wisdom from the Psalms" — the third season in the devotional series Creating Sacred Space in Our Lives presented by Tripp Martin, pastor of Auburn First Baptist Church.
For more information, visit AuburnFBC.org.