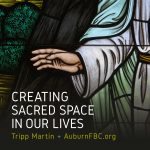 God is there whenever we make a decision that might hurt somebody else — where there is damage or harm. But, right there is also God's compassion. As the Psalmist says, God's anger is not forever. God's Love can always lead us back to what matters to the most.
On Wednesday, we gather for "Bread for the Traveler: Wisdom from the Psalms" — the third season in the devotional series Creating Sacred Space in Our Lives presented by Tripp Martin, pastor of Auburn First Baptist Church.
For more information, visit AuburnFBC.org.