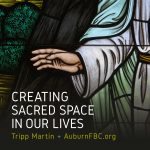 When we look out on the world, and we see the pain and heartache of poverty or oppression, prejudice or indifference, unethical or harmful behavior, we see evidence of the world's brokenness.
On Wednesday, we gather for "Sacred Words: Reclaim, Redefine, and Rediscover" — the second season in the devotional series Creating Sacred Space in Our Lives presented by Tripp Martin, pastor of Auburn First Baptist Church.
For more information, visit AuburnFBC.org.