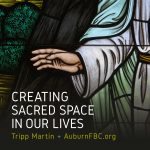 Confession requires boundaries. It requires trust. It requires sensitivity. It requires accountability. We do not confess just to anybody, but we confess in a way that can lead to healing.
On Wednesday, we gather for "Sacred Words: Reclaim, Redefine, and Rediscover" — the second season in the devotional series Creating Sacred Space in Our Lives presented by Tripp Martin, pastor of Auburn First Baptist Church.
For more information, visit AuburnFBC.org.