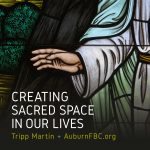 As we start considering all of our options and major decisions, and we just don't feel steady on our feet, discernment — looking at everything that is within, and sifting through it — can help us ground our feet again within God's presence.
On Wednesday, we gather to reflect on "Creating Sacred Space in Our Lives" — a devotional series presented by Tripp Martin, pastor of Auburn First Baptist Church.
For more information, visit AuburnFBC.org.