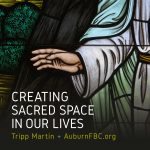 We must be careful how we describe the meaning of "Faithful" — unpacking it, and choosing words that we might use in everyday language. And "Faithful" is such an important word, because it describes the very character of God, and — as we have been created in God's image — a word that describes us, as well.
On Wednesday, we gather for "Sacred Words: Reclaim, Redefine, and Rediscover" — the second season in the devotional series Creating Sacred Space in Our Lives presented by Tripp Martin, pastor of Auburn First Baptist Church.
For more information, visit AuburnFBC.org.