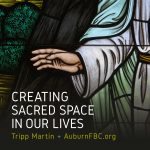 Any time we use the sacred word God, we should remember that God is God and we are not. It should feel as if our words are being stretched to their very limits—where there is always more for us to discover and to learn.
On Wednesday, we gather for "Sacred Words: Reclaim, Redefine, and Rediscover" — the second season in the devotional series Creating Sacred Space in Our Lives presented by Tripp Martin, pastor of Auburn First Baptist Church.
For more information, visit AuburnFBC.org.