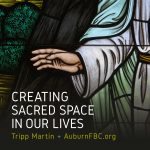 God's Grace: all of the goodness that we find throughout creation. It is the food we have to eat or the clothes we have to wear, the community that we can share, the friendship we have to embrace, or even the assistance we receive or give to others.
On Wednesday, we gather for "Sacred Words: Reclaim, Redefine, and Rediscover" — the second season in the devotional series Creating Sacred Space in Our Lives presented by Tripp Martin, pastor of Auburn First Baptist Church.
For more information, visit AuburnFBC.org.