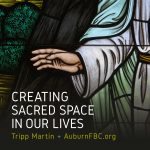 Other people's prayers are to lead us to our own words — to help us unearth how to say what we need to say that is authentic and genuine in our lives.
On Wednesday, we gather to reflect on "Creating Sacred Space in Our Lives" — a devotional series presented by Tripp Martin, pastor of Auburn First Baptist Church.
For more information, visit AuburnFBC.org.