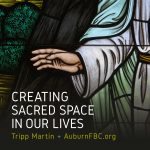 What is it that we are listening for? Is it a voice, a whisper, or a shout? Or, more like an echo? Or, is it something more like a presence — a sense that we are not alone? Or, is it a sense of conviction — a voice that comes up from within us, where our conscience is pricked and we are called to act? It could be many things. We hear God's voice or of God's presence in so many different ways.
On Wednesday, we gather to reflect on "Creating Sacred Space in Our Lives" — a devotional series presented by Tripp Martin, pastor of Auburn First Baptist Church.
For more information, visit AuburnFBC.org.