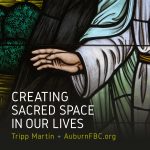 It's the stranger that we pass downtown. It is the refugee halfway around the world. It's the person who looks different from us. It is the rich and the poor. It is every race and ethnicity. It is every difference we can imagine.
On Wednesday, we gather for "Sacred Words: Reclaim, Redefine, and Rediscover" — the second season in the devotional series Creating Sacred Space in Our Lives presented by Tripp Martin, pastor of Auburn First Baptist Church.
For more information, visit AuburnFBC.org.