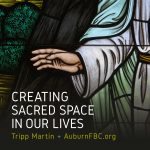 Sometimes we might feel as if our work is too practical to also be spiritual. How can our work have implications for our faith? Or, how can our faith have implications for our work? But, what if what we do with our lives — our work and our efforts — could mirror God's work: God's creation and care for this world?
On Wednesday, we gather to reflect on "Creating Sacred Space in Our Lives" — a devotional series presented by Tripp Martin, pastor of Auburn First Baptist Church.
For more information, visit AuburnFBC.org.