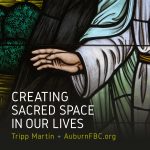 Fire has always had a way of occupying what seems to be sacred space — or, at least speaking to what we mean by sacred space. We can sit there captivated by it, where our attentions are focused.
On Wednesday, we gather to reflect on "Creating Sacred Space in Our Lives" — a devotional series presented by Tripp Martin, pastor of Auburn First Baptist Church.
For more information, visit AuburnFBC.org.