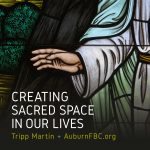 We always — from generation to generation — need to reclaim, redefine, and rediscover what our sacred words mean. We are to tell our story: to be genuine and authentic about who we are — not only to those inside the church, but to those that we meet and share life with, wherever it takes us.
On Wednesday, we gather for "Sacred Words: Reclaim, Redefine, and Rediscover" — the second season in the devotional series Creating Sacred Space in Our Lives presented by Tripp Martin, pastor of Auburn First Baptist Church.
For more information, visit AuburnFBC.org.