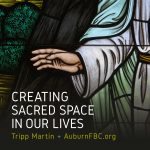 It would be near impossible to put together a great PowerPoint presentation that teaches us about things like mercy, forgiveness, justice, kindness, and generosity. But, perhaps we can all think of at least one person whose life embodied one of those things.
On Wednesday, we gather for "Sacred Words: Reclaim, Redefine, and Rediscover" — the second season in the devotional series Creating Sacred Space in Our Lives presented by Tripp Martin, pastor of Auburn First Baptist Church.
For more information, visit AuburnFBC.org.