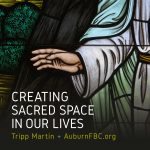 If we reduce the conversation about Salvation only in terms of death, we inadvertently leave out so much of the life of Jesus; because Jesus lived for the same things he died.
On Wednesday, we gather for "Sacred Words: Reclaim, Redefine, and Rediscover" — the second season in the devotional series Creating Sacred Space in Our Lives presented by Tripp Martin, pastor of Auburn First Baptist Church.
For more information, visit AuburnFBC.org.