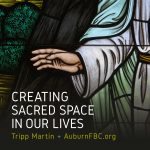 As we are practicing Sabbath — making room for God's presence, creating sacred space in our lives — perhaps we see the value again of things like community, patience, kindness, service, hope, mercy, Love, justice, gentleness, and meekness.
On Wednesday, we gather to reflect on "Creating Sacred Space in Our Lives" — a devotional series presented by Tripp Martin, pastor of Auburn First Baptist Church.
For more information, visit AuburnFBC.org.