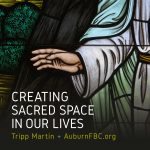 God doing a new thing is similar to how the work of Forgiveness allows us to begin again, or how the practice of Justice is always trying to right the wrongs, or how Grace allows us to create something new out of Love, Mercy, or Hope.
On Wednesday, we gather to reflect on "Creating Sacred Space in Our Lives" — a devotional series presented by Tripp Martin, pastor of Auburn First Baptist Church.
For more information, visit AuburnFBC.org.