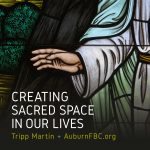 It is easy for us to be occupied with what it is we are letting go of, or what it is we feel we are missing out on, which keeps us from seeing what is actually there—what it is we have to be grateful for in our life.
On Wednesday, we gather to reflect on "Creating Sacred Space in Our Lives" — a devotional series presented by Tripp Martin, pastor of Auburn First Baptist Church.
For more information, visit AuburnFBC.org.