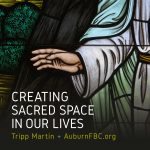 One of the places that we might visit to give us a new perspective is that of reading Scripture. Oftentimes, we think of reading Scripture as a regular activity of learning, but perhaps it takes us on a journey to new places, as well, that creates space in our lives to see our place, our neighbors, and ourselves differently.
On Wednesday, we gather to reflect on "Creating Sacred Space in Our Lives" — a devotional series presented by Tripp Martin, pastor of Auburn First Baptist Church.
For more information, visit AuburnFBC.org.