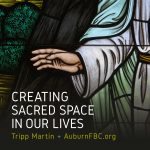 Any time any of us experience the presence of God, it is just a half-step toward an empathy for those who are hurting, because that is the very character of God's Love in this world. It is why empathy is wrapped around our faith.
On Wednesday, we gather to reflect on "Creating Sacred Space in Our Lives" — a devotional series presented by Tripp Martin, pastor of Auburn First Baptist Church.
For more information, visit AuburnFBC.org.