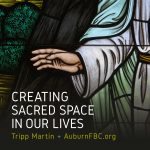 We all need the forgiveness of others, whether that is receiving it or offering it. And, when give ourselves to that kind of work — without fail — we make room in our lives for Sacred space.
On Wednesday, we gather to reflect on "Creating Sacred Space in Our Lives" — a devotional series presented by Tripp Martin, pastor of Auburn First Baptist Church.
For more information, visit AuburnFBC.org.