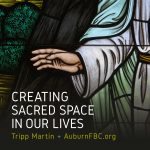 As we practice community — or even prioritize community — we hope to learn to love our neighbor as our self: where, in the diversity of the Community of Faith, we learn that everyone is our neighbor.
On Wednesday, we gather to reflect on "Creating Sacred Space in Our Lives" — a devotional series presented by Tripp Martin, pastor of Auburn First Baptist Church.
For more information, visit AuburnFBC.org.