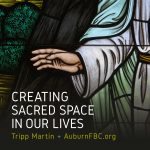 The questions vary at different seasons of our lives, but those small answers are important places where we can seek out God's presence. It highlights for us the very power of our choices, which we could never really underestimate.
On Wednesday, we gather to reflect on "Creating Sacred Space in Our Lives" — a devotional series presented by Tripp Martin, pastor of Auburn First Baptist Church.
For more information, visit AuburnFBC.org.